Rosemary and Lavender Essential Oils



DIY Garden Bath Salts

Author: Cure Oils Date: July 1st, 2021 Tags: Recipes
ARE WE DRY ENOUGH YET? We have really felt the hot, dry weather this summer. Because our skin and hair are so dry and have been subjected to sun and dry winds, it is time to treat ourselves. Try adding essential oils and plant materials from your garden to your bath salts and soak in the goodness. We have worked hard to keep our gardens thriving this year, so let's enjoy the bounty. Rosemary and Lavender essential oils in bath salts will soothe sunburn, chaffing, minor cuts and insect bites. This is also a great way to share the fruits of your garden with friends and neighbors.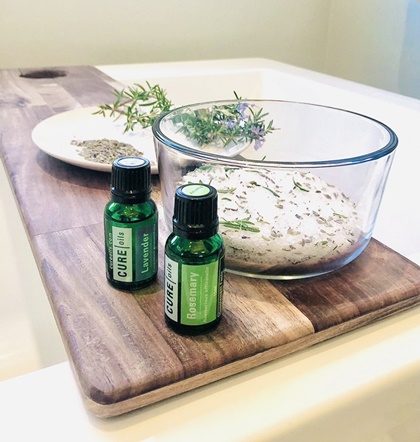 HERBAL GARDEN BATH SALTS
1 cup Epsom salts
¼ c. Lavender buds
¼ c. Rosemary leaves
20 drops of essential oil (10 drops Rosemary and 10 drops Lavender)
Mix all ingredients together in a glass bowl. Use 1⁄2 cup per bath soak. Store in an airtight glass container.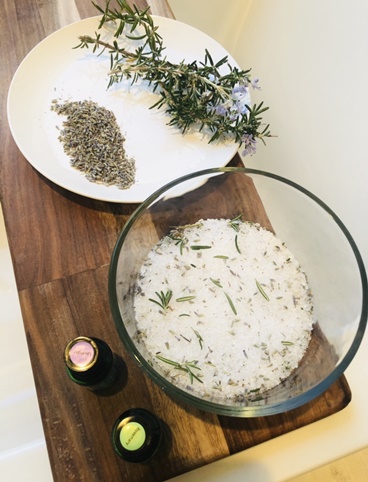 ROSEMARY ESSENTIAL OIL
Benefits & Uses
Rosemary ct. verbenone is well known for being refreshing and uplifting

Relieves chronic rheumatic pain and swelling

Anti-spasmodic properties heal tired muscles

Mucolytic effects – clears mucus from upper and lower airways (not dry cough)

Ketone components made it ideal for skin and hair care.

Astringent properties contract and tighten tissue.

Ciscatrisant properties help heal wounds by formation of scar tissue

Nourishing components make it a favorite oil to add to DIY skincare, haircare and household products.