DIY NATURAL LIP BALM



with Peppermint Essential Oil

Author: Cure Oils Date: September 2, 2021 Tags: Recipes
School is back in full swing and we begin to miss our summer family together time. Are you looking for a quick and easy weekend project for your family? Try our recipe for a natural lip balm using peppermint essential oil which is the CUREoils.com monthly freebie. A free 5ml peppermint essential oil is automatically shipped with every order over $25. This lip balm is the perfect natural way to heal chapped lips during upcoming changing temperatures and fall winds.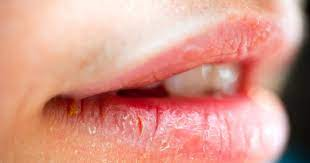 Natural Lip Balm

1 T. shea butter (pure unrefined – raw)
1 T. white beeswax pellets
4 T. carrier oil (fractionated coconut oil or jojoba oil)
10 drops essential oil (peppermint, clove bud or lime)
3 (1 oz.) aluminum or glass lip balm containers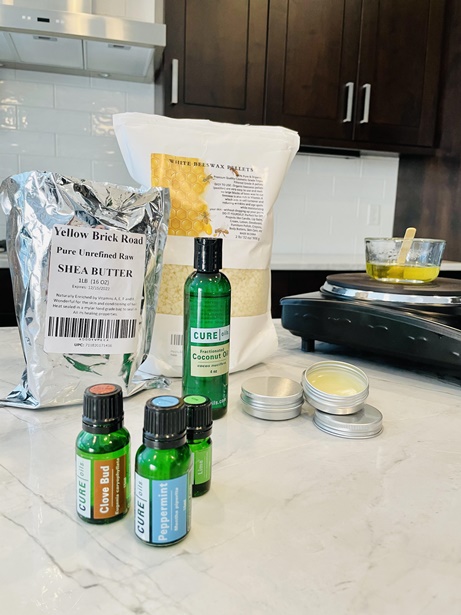 Melt first 3 ingredients in a glass dish on a hot plate or slowly in microwave for 20 seconds at a time. Once the ingredients are melted and blended, remove it from the heat. After the mixture has cooled for several minutes, stir in 10 drops of peppermint essential oil. This recipe will make 3-4 lip balms (1 oz.).

PEPPERMINT IS A KEY TO A SHARP MIND AND HELPFUL FOR SCHOLASTIC SUCCESS:
Peppermint essential oil is a great oil to diffuse into your environment to help mental clarity and concentration. We love diffusing peppermint into a home school room, a homework study area or a home office. See the studies and ideas we found to help improve grades and work output.
STUDY: Peppermint aroma enhances memory and increases alertness human subjects.
Abstract Title:
Modulation of cognitive performance and mood by aromas of peppermint and ylang-ylang.
Abstract Source:
Nutr Cancer. 2006;55(1):53-62. PMID: 18041606
Abstract Author(s):
Mark Moss, Steven Hewitt, Lucy Moss, Keith Wesnes
Abstract:
This study provides further evidence for the impact of the aromas of plant essential oils on aspects of cognition and mood in healthy participants. One hundred and forty-four volunteers were randomly assigned to conditions of ylang-ylang aroma, peppermint aroma, or no aroma control. Cognitive performance was assessed using the Cognitive Drug Research computerized assessment battery, with mood scales completed before and after cognitive testing. The analysis of the data revealed significant differences between conditions on a number of the factors underpinning the tests that constitute the battery. Peppermint was found to enhance memory whereas ylang-ylang impaired it, and lengthened processing speed. In terms of subjective mood peppermint increased alertness and ylang-ylang decreased it, but significantly increased calmness. These results provide support for the contention that the aromas of essential oils can produce significant and idiosyncratic effects on both subjective and objective assessments of aspects of human behavior. They are discussed with reference to possible pharmacological and psychological modes of influence.
Article Published Date : Jan 01, 2006
Study Type : Human Study
Additional Links
Substances : Peppermint : CK(333) : AC(53)
Diseases : Memory Disorders : CK(344) : AC(104), Memory Loss : CK(153) : AC(40)
http://www.greenmedinfo.com/article/aroma-peppermint-enhances-memory-and-increases-alertness-human-subjects
How to Boost Your Mental Function With Peppermint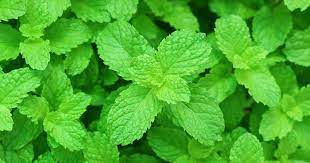 Peppermint offers an inexpensive and enjoyable way to improve your memory and focus. There are several ways you can use peppermint to enhance brain function. Next time you need to clear your head or improve your focus, try one of these:
1. Peppermint essential oil is a favorite in aromatherapy and can be used in a variety of ways. Make a peppermint mist by combining a few drops of peppermint essential oil with one cup of water in a spray mister. Spray a light mist whenever needed. Or add a few drops of peppermint oil in a handkerchief and take the refreshing scent of peppermint with you wherever you go.
2. Fresh mint gives off a strong and pleasant aroma. Grow mint indoors and keep the plant by a desk or anywhere concentration is needed. You can also dry fresh mint leaves and use them for tea or cooking.
3. Make yourself a hot cup of peppermint tea. Not only does this tea smell delightfully of peppermint, but it's also used in natural medicine to improve digestion, ease nausea, relieve stress and more. A fresh cup of peppermint tea in the morning or early afternoon is a great way to beat an energy slump.
Learn more: http://www.naturalnews.com/034368_aromatherapy_peppermint_memory.html#ixzz4KFsww4CU